MakeMyTrip-Flight Hotel Bus Cab IRCTC Rail Booking
7.8.4
Booking App – Plan Your Trip Before Flying
Having trouble in booking your flight for an important business trip or holiday? Looking for travel ideas for your long-awaited vacation? If yes, then you will find this booking app very appealing. MakeMyTrip – Flights Hotels Cabs IRCTC Rail Bookings is a cool app that allows you to book tickets for flights and trains and make hotel reservations. It can also help you find a cab to get to the airport. You will find the cheapest flights on this app both for traveling within India or abroad. There is a flight tracker available for you too. You can use it for finding out the status of different flights and their availability. This app offers various travel ideas and deals for you too.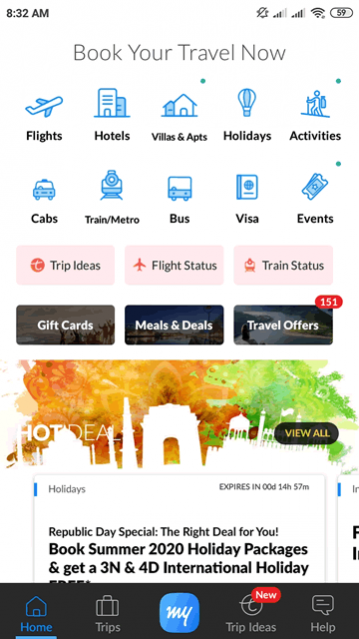 MakeMyTrip – Flights Hotels Cabs IRCTC Rail Bookings has an intuitive user interface that meshes quite well with its user-friendly design and layout. You won't have any difficulty in navigating the many features of this booking app. However, before you get started, you will be asked to sign-in. You can use your Gmail or Facebook ID to sign in to the app. After signing in, you will have to provide the app with your mobile number for further verification. Do keep in mind that you can only enter an Indian number. The app does not accept any other phone numbers. So, unless you have an Indian phone number, you can't be verified and avail the rewards that this app offers to its new subscribers.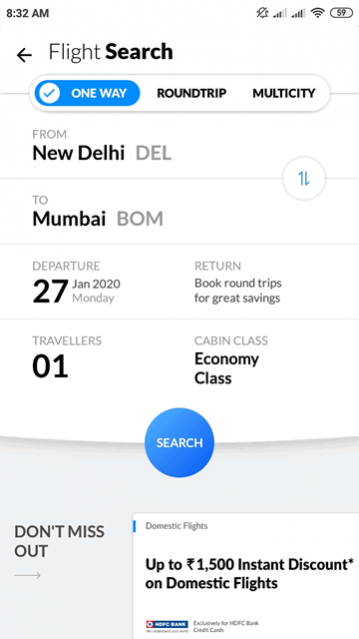 This booking app lets you plan your trips from start to finish. You can book tickets for flights, hotel rooms for accommodation and even cabs for driving anywhere in the city you are traveling to. If you plan on traveling by train, this app provides you the option of making train reservations too. You can search for train routes and find out which trains can take you to your destination in the shortest possible time. Aside from hotel rooms, there are also options available on this app to search for apartments or homes that can be rented for the duration of your trip. If you are traveling abroad, you can look up information on how to obtain tourist visas for those countries.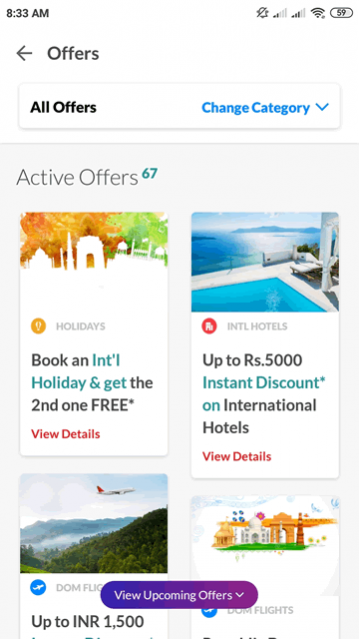 MakeMyTrip – Flights Hotels Cabs IRCTC Rail Bookings doesn't just let you book tickets and make reservations. It also helps you in providing ideas for your trips. There are articles and blogs available on the app that can help you in deciding where to spend your vacation and how to plan your trip to get the most out of your visit. This booking app has various travel offers lined up for you too. These offers give you the chance to go to a favorite destination of yours and have the time of your life without having to spend too much. For Indian travelers and tourists that can verify their phone numbers, there are many extra rewards on offer.
Features:
Intuitive user interface
User-friendly design and layout
Book tickets for trains to any city
Both international and local flights available
Find the cheapest hotel deals
Option to reserve rooms in advance
Book cabs for going to the airport
Various travel deals available
Trip ideas on offer to help you plan vacations
Conclusion:
MakeMyTrip – Flights Hotels Cabs IRCTC Rail Bookings is an app that is marketed to people who have to frequently travel within the country or abroad. It offers them the chance to plan out their visits to any destination in the world and make reservations at their favorite hotels before even getting on the plane. It is an excellent booking app to have on your phone especially if you are traveling within India.
---
Add a review
Tell us your experience with
MakeMyTrip-Flight Hotel Bus Cab IRCTC Rail Booking
7.8.4
RELATED PROGRAMS
Our Recommendations
---
---
---
---